Hazlitt Holiday Mash-Up: 𝘍𝘢𝘮𝘰𝘶𝘴 𝘊𝘩𝘳𝘪𝘴𝘵𝘮𝘢𝘴 𝘔𝘰𝘷𝘪𝘦 𝘊𝘩𝘢𝘳𝘢𝘤𝘵𝘦𝘳
November 26, 2022 @ 10:00 am

-

5:00 pm

|

Recurring Event

(See all)

One event on November 27, 2022 at 11:00 am

Free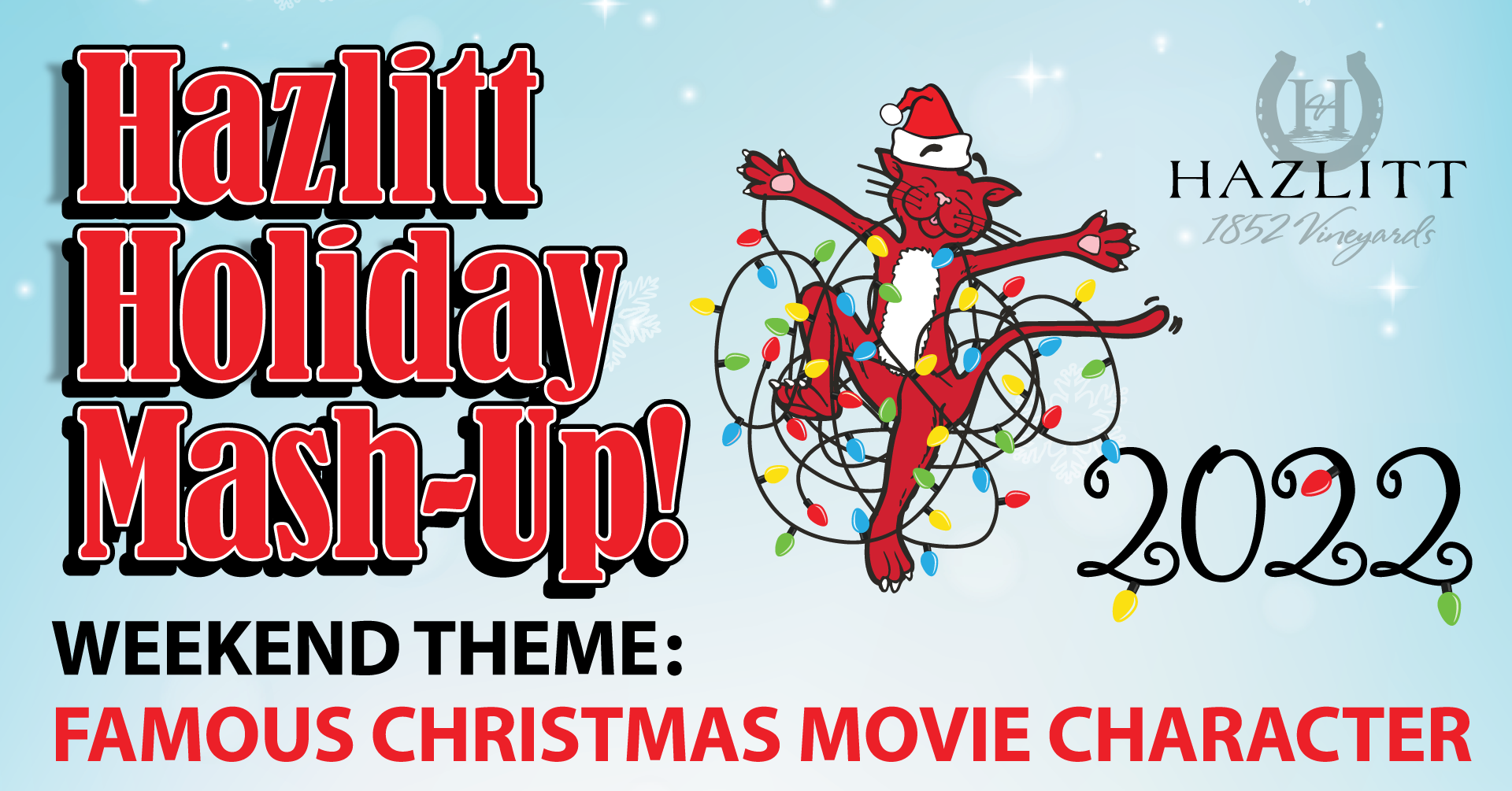 𝗪𝐄𝐄𝐊𝐄𝐍𝐃 𝐓𝐇𝐄𝐌𝐄: 𝐅𝐚𝐦𝐨𝐮𝐬 𝐂𝐡𝐫𝐢𝐬𝐭𝐦𝐚𝐬 𝐌𝐨𝐯𝐢𝐞 𝐂𝐡𝐚𝐫𝐚𝐜𝐭𝐞𝐫 
Come dressed as your favorite character from a Christmas movie.
𝘊𝘰𝘮𝘦 𝘥𝘳𝘦𝘴𝘴𝘦𝘥 𝘵𝘰 𝘪𝘮𝘱𝘳𝘦𝘴𝘴 𝘪𝘯 𝘵𝘩𝘦 𝘩𝘰𝘭𝘪𝘥𝘢𝘺 𝘸𝘦𝘦𝘬𝘦𝘯𝘥 𝘵𝘩𝘦𝘮𝘦 𝘢𝘯𝘥 𝘣𝘦 𝘦𝘯𝘵𝘦𝘳𝘦𝘥 𝘵𝘰 𝘸𝘪𝘯 𝘢 𝘏𝘢𝘻𝘭𝘪𝘵𝘵 𝘏𝘰𝘭𝘪𝘥𝘢𝘺 𝘛𝘦𝘦.*
Sat., 11/26/22 – Oasis Live Music:
Public Water Supply
• 1-4 PM | Genre: Outlaw Country & Rock 'n Roll
_
𝐉𝐨𝐢𝐧 𝐮𝐬 𝐟𝐨𝐫 𝟓 𝗪𝐞𝐞𝐤𝐞𝐧𝐝𝐬 𝐨𝐟 𝐅𝐞𝐬𝐭𝐢𝐯𝐞 𝐅𝐮𝐧, Nov.19th – Dec. 18th!
• Holiday theme each weekend, so come dressed to impress for you chance to win a Hazlitt Holiday Tee each week.
• Live Music every Saturday in the Oasis, 1-4 PM
• Festive Cocktails
• Seasonal Food Favorites like Hazlitt's World Famous French Onion Soup
• Photos with Santa & Mrs. Claus. Family Friendly. (Dec.10 &11)
• Give Back to the Humane Society of Schuyler County on Giving Back Weekend (Dec. 3rd & 4th)
*𝘛-𝘴𝘩𝘪𝘳𝘵 𝘥𝘳𝘢𝘸𝘪𝘯𝘨 𝘩𝘦𝘭𝘥 𝘰𝘯 𝘵𝘩𝘦 𝘧𝘰𝘭𝘭𝘰𝘸𝘪𝘯𝘨 𝘔𝘰𝘯𝘥𝘢𝘺 𝘰𝘧 𝘦𝘢𝘤𝘩 𝘸𝘦𝘦𝘬𝘦𝘯𝘥. 𝘕𝘦𝘦𝘥 𝘯𝘰𝘵 𝘣𝘦 𝘱𝘳𝘦𝘴𝘦𝘯𝘵 𝘵𝘰 𝘸𝘪𝘯.